Now you can know who's in your tasting room, and follow them home
It's well known among professional direct marketers that the most important factor for executing successful sales campaigns is the customer list. You can develop the most compelling offer known to man with the most creative presentation on the planet, and yet completely bomb on results because your list wasn't big enough to deliver the sales you expected. The challenge for most tasting rooms lies in finding a way to invite every qualified guest to sign up for your list.

We listened to our clients and have delivered a simple, powerful solution for capturing consumer data.
"PLUG AND PLAY" KIOSK IS ENTERTAINING FOR YOUR CUSTOMERS
NO SURFING. NO TWEETING. NO CHECKING IN OR POSTING TO WALLS – CUSTOMERS ALREADY DO THIS ON THEIR SMART PHONES.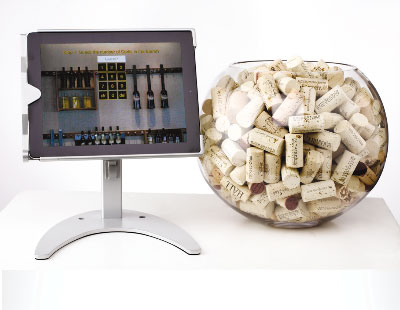 STUNNING RESULTS
IN RECORD TIME
Iron Horse Winery added over
1500 NEW CUSTOMERS
to its database in less than 90 days.
HUNDREDS OF NEW NAMES
are being collected
OVER SINGLE WEEKENDS
for Armida Winery, Cornerstone
Cellars, Chateau St. Jean, Farmstead Restaurant, Gloria Ferrer, Beringer,
BR Cohn, St. Francis,
and dozens of other clients.
ENDLESS OPPORTUNITIES
Take the kiosk anywhere for data collection – road trips, offsite tastings, special events. We built it with "store and forward" technology – simply put it back in your tasting room for the data to be uploaded to our cloud and then automatically purged. Other applications include customer satisfaction surveys, as our client Farmstead is doing. You can do anything you want with the data. We use the phone numbers to call your customers and sell them your wines, but as you know, we don't send emails so that part is up to you!
AVAILABLE NOW, SEE IT LIVE
VinoPRO is a full-service solution for your DTC sales and technology needs. We can't wait to show you our new kiosk, a simple and powerful solution to your data capture challenge!  Contact us to schedule a visit to our facility and inspect all the different options available that can customize the engagement experience for your visitors.
SAFE, SECURE, RELIABLE
Data is automatically sent to our cloud, with no data stored on the machine, making it a secure solution
Each kiosk is managed remotely from the VinoPRO offices
The kiosk connects to your wireless internet or cellular data provider
Alarms go off in our office if the unit is unplugged, the battery is at 50% or any other problem enabling us to take corrective action.
If the device ever fails, we replace it.
Opt-in agreements ensure mandatory TPCA/FCC regulatory compliance
AFTER UPLOAD TO OUR CLOUD:
AUTO-GENERATE A WELCOME EMAIL
CALENDAR A FOLLOW-UP CALL IN 45 DAYS
AUTO GENERATE IMMEDIATE TEXT FOR POINT-OF-SALE COUPONS
IMPORT DATA INTO CRM SYSTEMS 
ZERO COST TO OUR CLIENTS
VinoPRO provides everything at no charge to our strategic partner clients, including the iPad, software, kiosk stand, and the glass cork vessel. You simply provide the corks and a power plug. Other interested wineries and businesses can subscribe to the service for a nominal monthly fee.
Click HERE to download the product brochure in PDF format.