Hello Vino Launches New "Wine Expert On-Demand" App Powered by VinoPRO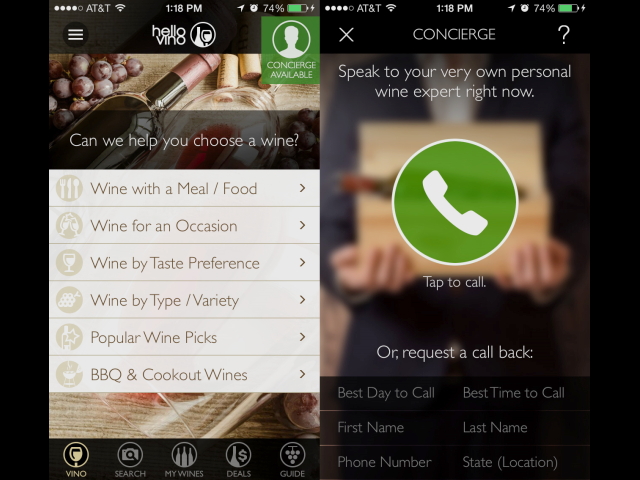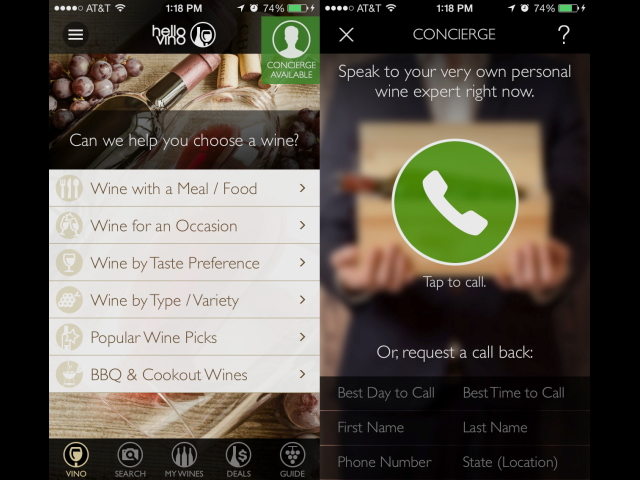 New "Wine Expert On-Demand" concierge feature in Hello Vino Wine Assistant app,
powered by VinoPRO (PRNewsFoto/Hello Vino)
SAN FRANCISCO, Sept. 4, 2014 /PRNewswire/ — Hello Vino, Inc. today announced the release of a brand new "vintage 4.0" of the Hello Vino Wine Assistant app, adding a revolutionary tap-to-call feature that connects app users with a personal wine concierge based in California wine country.
"We are excited to be the only app to deliver a truly personal experience to wine drinkers," remarks Rick Breslin, Founder of Hello Vino. "It's like having your very own wine expert on-call."
The Hello Vino app connects wine drinkers to a personal wine concierge service powered by VinoPRO, a leading wine industry technology provider and two-time Inc.500 award recipient of Inc. Magazine's list of America's fastest growing companies. VinoPRO's patent-pending "Click-to-Call" technology identifies mobile users in order to deliver a personalized call experience within the Hello Vino app.
In addition to the new on-demand service, the Hello Vino app features include personalized recommendations, a wine label scanner using image recognition, and a wine notebook to keep track of purchases and build wish lists. As the category-leading wine app, Hello Vino has reached an installed base of nearly 2 million wine drinkers.
"The on-demand economy is exploding and we are thrilled to be leading innovation in this partnership with Hello Vino, especially within the wine industry's fastest-growing Direct to Consumer sales channel," said VinoPRO CEO Jeff Stevenson. "The personalized recommendations provided by our expert staff are backed by extensive training and years of experience in the wine industry."
The brand new version of the Hello Vino Wine Assistant app now also includes a comprehensive "Wine Guide" that lists hundreds of varieties of wine with audio pronunciations and food pairing suggestions. The app for is available for free on both the Apple App Store and Google Play.
A complete list of app features with visuals and downloads are available at: hellovino.com/update
About Hello Vino:
Hello Vino delivers wine recommendations to mobile devices, acting as a personal wine assistant to consumers looking to purchase the perfect bottle of wine for a meal, a specific occasion, or according to personal taste preferences. The free app is available on the Apple App Store and Google Play. More information, including video demonstrations and features, are available at HelloVino.com
About VinoPRO:
VinoPRO of Santa Rosa sells ultra-premium wine, wine club memberships, data collection kiosks and technology solutions for companies such as Trefethen Winery, Iron Horse Winery, Benziger Family Winery, Gloria Ferrer, Ferrari-Carano, WineTasting.com, Treasury Wine Estates, Loudmouth Golf and dozens of other high-end wine brands, and has the only real-time FCC/TPCA compliant DTC sales platform in the wine industry.
Media Contacts:
media@hellovino.com
415-598-8466
media@vinopro.com
707-396-5000